Dashboard Lights
The RX3 dashboard lights are pitifully dim in the daytime, plus they are located outside the peripheral vision of the rider. I at least wanted some indication of when I'd forgotten to cancel the turn signals. The solution I came up with was to mount several small (5mm) LED lights on the left and right of the instrument panel in the two decorative "arms". There's room for them there, plus there's room to run the wiring in the channels on the back.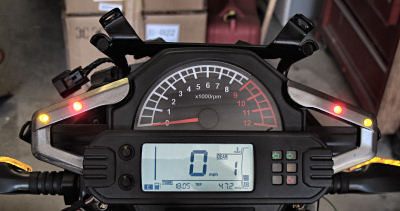 The image above shows 4 LEDs. A left and right amber LED for the turn signals. There are also two red LEDs I haven't yet assigned, but one may be a side stand down warning and the other an indication heated grips are on (when I install them). I also intend to include a blue LED for high beams and an indicator light to show when the LED auxiliary lights are on. Here's a tip - when you drill the holes, drill them so that the LED points at your head. You can do this by sitting on the bike and drilling the holes with the right alignment rather than drilling square on to the face of the side arms. The LEDs are pretty directional, so you want them pointed right at your eyes.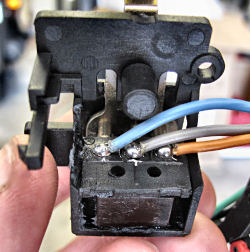 The left and right turn signals for the LEDs can be picked up anywhere on the wiring loom. The left turn wire is Orange and the right turn wire is Light Blue. One place where you can connect to them is in the turn signal switch on the left bar (shown on the left). I soldered on extra wires to the left and right terminals.
The circuit for an LED indicator is simple. One side of the LED (usually the one with the shorter leg) connects to ground. The other side of the LED connects to 12v (i.e. the turn signal voltage) through a resistor. In this application for a typical 5mm LED a 560ohm resistor (1/4W) is about right. Any kind of LED is OK, but I used a clear amber 5mm LED. The schematic for wiring an LED is shown below:
---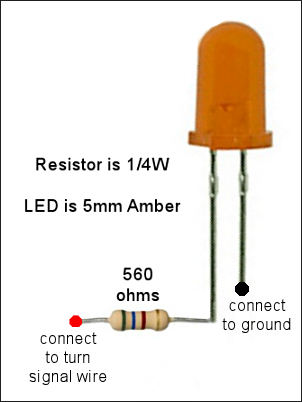 LEDs and resistors can be obtained through eBay: